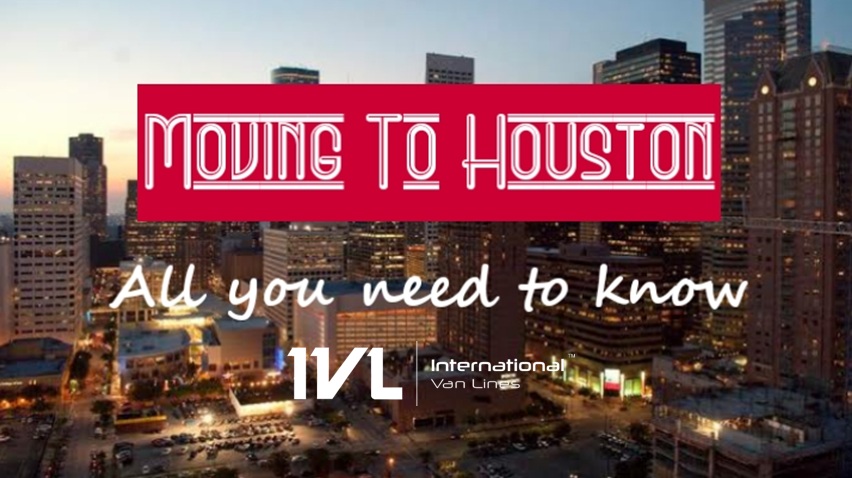 Moving to Houston?
There are many benefits in moving to Houston and beyond the beauty it offers!
Houston – Get to know the City!
Houston is the fourth most populated city in America. Houston is now increasing at a rate of 0.07 percent annually, and since the most latest statistics which reported a census of 2,099,450 in 2010, its population has risen by 10.68 percent. In 2021, Houston hit population size of 2,323,660. Houston has a population density of 3,630 residents per square mile, stretching over 672 miles.
Houston is a city that is very multicultural and cosmopolitan. The reputation of Houston as a port city, its many educational institutions, and its thriving industries make it an enticing place for people in all walks of life. Houston was identified to be the most diverse out of 501 communities surveyed in a survey. In Houston, more than 140 languages are spoken, with Spanish and Vietnamese being the most common after English. It's also a major city with many diverse communities, green areas, nightclubs choices, and readily accessible real estate. It's huge, bold and colorful, as anything in Texas must be. It is a lively cosmopolitan city that offers a great deal to those who live in it.
A combination of urban services, a diverse community, and a thriving job market make many people move to Houston. All these combine to form a vibrant town and a great place to live. There are also countless leisure opportunities for Houston locals, from nightclubs to 6 pro sports teams. The Houstonians are occupied by a variety of award-winning restaurants and there are some things you should know before grabbing your bags and Moving to Houston.
Benefits of Hiring a Moving Company – Read Here
Get to Know Houston before Moving!
Bustling Houston's Labor Market
When moving to Houston, the mix of the city's affordable rents and a thriving job market ensures more money in your wallet. The city boasts a number of prosperous industries, like oil and gas exploration, oil refining, health research, aviation and high-technology.
Houston has excellent Local Restaurants
When it comes to its culinary scene, Houston doesn't really mess around; it's there to conquer the taste buds. Yeah, some seriously awesome barbecue and Tex Mex can be scored, but Houston also features numerous dishes from award-winning chef James Beard.
Relocate to Houston to taste your way through Viet-Cajun Crawfish plates of the area, and famous restaurants.
Prices range from high-end service restaurants to the oil millionaires of the region to modest food trucks.
Houston Has No Regulations on Zoning
Travel long enough around Houston, and you may begin to note that the city has something unique and wonderful about it. Houston has no zoning rules amongst other attributes that make it so special. Growth is still regulated by codes on how to subdivide land, but a few of Houston's most exciting and diverse communities have evolved in the absence of zoning laws.
Art & cultural attractions in Houston
All the oil money flowing around Houston has been a blessing to the cultural sector of the region, with wealthy donors funding a number of creative and artistic institutions. A Couple of reputed Museums of Fine Arts are the Contemporary Arts Museum and the Menil Collection and Blaffer Art Museum. If you like the job of up-and-coming artists, the city does have its own arts district on Washington Avenue, which is the host to the studios and work spaces of over 300 artists and artistic entrepreneurs.
Housing Prices in Houston
The house prices in Houston are comparatively low.
In Houston, the relatively affordable housing market has continued to draw so many new migrants. Houston's housing industry has risen with its population, avoiding the kinds of real estate inflation other cities have. Unlike cities like New York and San Francisco which have not provided enough housing to sustain the population of new arrivals, Houston offers affordable living.
Education in Houston
Students have entry to all elite universities in Texas.
There are several school districts to examine, based on where you want to live in the Houston metro. The Houston Independent School District (HISD) tends to be one of the biggest. The bigger the district, more services are available to students. In reality, because of their vigorous AP programs & expansion, HISD has won several awards and has been recognized by the US News Best High School report.
Currently, in the state of Texas, HISD is the strongest and runs 283 schools.
Movers in Houston
International Van Lines is Rated as the #1 Moving Company in Texas! Ranked by Move.org as the number one mover in the country, International Van Lines prides itself on quality. Although we're a leading mover nationally, our costs for moving services are reasonable.
We're the premier local movers in Houston, TX

GET A FREE MOVNG QUOTE IN SECONDS!
Places of Interest in Houston
Space Center Houston
An extremely popular attraction in Houston is the Space Center Houston, the authorized visitor center of NASA's Johnson Space Center .
Do you have any aspirations of working with NASA? In Houston, people can make things work!
The Lyndon B. Johnson Space Center located in Houston is NASA's center for human spaceflight training. Human Research, Flight Control and Space Training are conducted here.
It is a massive complex where the Space Shuttle Model Independence and the huge shuttle carrier aircraft on which it is placed can be walked through. You will wander inside the replica of America's first space station, Skylab, and feel a rock from the moon in the visitors center. The complex is also the platform to discuss forthcoming NASA missions, such as trip to Mars etc.. If you've been here at noon on a Friday, you could even meet an astronaut.
Houston's Museum District
This district is among the main cultural attractions in the city and is home to 19 different museums, of which, eleven are state-owned and are open for all. The Houston Museum of Natural Science, the Museum of Fine Arts, the Children's Museum, the Contemporary Museum, and the Holocaust Museum are some of the most prominent museums.
Many of the museums would be within walking distance of the other, making it convenient for a single day trip to visit them.
Houston Zoo
The Houston Zoo is one of the metro's star attractions, famous with locals and tourists and located on 55 acres in Hermann Park. The zoo houses over 6,000 native and indigenous animals and has an educational center and a zoo for kids.
Feeding the giraffes, observing marine life up close in the aquarium, and seeing sea lions and otters cavorting around are among the highlights.
Buffalo Bayou Park
On its own, this park is a natural beauty, spread over a vast 160-acre green land that runs through the area, with the peaceful Buffalo Bayou in the middle. Here, people could be seen walking and biking on the trails. Kayaking, canoeing, and stand-up paddle-boarding can also be done in the park. There are also numerous guided tours of the area, ranging in length from one to three hours. The Cistern, an old underground drinking-water reservoir from 1926 now hosts evolving artworks, and is a unique location in Buffalo Bayou Park .
Nowadays tourists can go for a short guided tour.
Houston's Street Art
While visitors sometimes miss it, the street art of Houston, and what many folks know as graffiti, is excellent with works by some of the best names in street art in The United States and around the globe. There are some truly impressive works of art in the city.
Innumerable walls of establishments scattered across the city decorate these colorful wonders, which visitors will have a great time cruising around seeing.
Vintage Stores
Visiting the Vintage Stores in the 19th district at Heights are well worth the trouble. Cranky little shops offer all sorts of things, from jewelry, accessories, household pieces, to evening wear with trendy decor and vintage collectibles.
It is a popular place to look for gifts. The stock is not always vintage; new items or a combination of new and old are also sold in certain markets.
Even if you don't want to buy something, the entire area is fun visiting and provides a special shopping experience.
Beautiful Beaches of Galveston
Just over an hour away from Houston are the stunning beaches of Galveston.
If you're looking for a fast break out of town, travel out to Galveston to bask in the sun for a while, stroll around the old city center, and dine at a beach side restaurant.
Unending beaches and shallow turquoise water extend along the oceanfront for miles. The Pleasure Pier is at the center of the beach action.
Houston Livestock Show And Rodeo
The Houston Livestock Show & Rodeo is the super festival that Houston hosts yearly. Once you relocate to Houston, you can enjoy this family festival so much more than any other rodeo and livestock show.
Carnivals, food vendors, sports, and other types of entertainment would keep you entertained for as long as you are there. Seeing the cowboys showcasing their talents in a number of locations at the rodeo competitions make the carnival a much sought after tourist attraction.
The show is also known to host some of the biggest music stars onstage in the evening.
Cost of Moving in Houston
Now that you know what things to do if you are considering moving to Houston, you will need to find a trusted moving service.
International Van Lines specializes in Local, Long-distance and International Moving and averages about 15,000 moves every year.
CLICK HERE to know all about typical moving expenses.